Edward Napleton Jr. 4th Generation Car Dealer
The Ed Napleton Automotive Group is proud to be a part of the Chicagoland area since 1931. Even after all of these years the Napleton Automotive Group remains family owned as is larger than ever before. Today, Eddie Napleton, 4th generation car dealer and son of Ed Napleton, is heavily involved in the business and running the day to day operations along with three of his siblings. The Napleton Automotive Group now has 79 franchises in 47 locations and over 3,400 employees.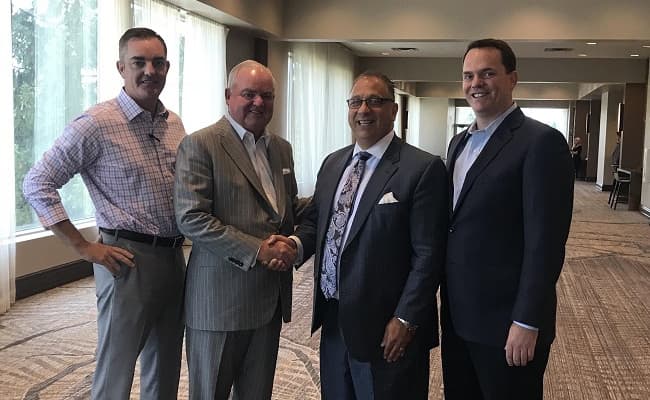 Edward Napleton Jr. Gives Back
Giving back to the local community and supporting our customers is very important to Edward Napleton Jr. and the Napleton Automotive Group. A couple of the main initiatives the Napleton's have started here at Valley Hyundai includes teaming up with the Anderson Animal Shelter to run Pet Adoption Events, donating to local charity organizations, raising money and awareness for breast cancer, and much more.
Eddie Napleton's Upbringing
Edward Napleton Jr. grew up in the Chicagoland area where he still resides today. From a young age, Eddie always had a love for the family business. Eddie has also always had a love for sports where he was on a team, and he was able to build his leadership skills. In 2015, Edward Napleton Jr. and his family moved to West Palm Beach, FL for four years where he oversaw the South Region for the Napleton Automotive Group. Eddie Napleton is a proud husband and a proud father of three. His wife, Jami Napleton, also shares the same love of giving that Eddie does. Jami is a second grade teacher who has worked at
The Frances Xavier Warde Catholic School Old St. Pat Campus
 in Chicago for 12 years as well as at
Seacrest Country Day School
in Naples, Florida. Together, Eddie and Jami want to continue to give back and teach through the Napleton Automotive Group.
Visit Napleton's Valley Hyundai