All New Hyundai Santa Cruz on Sale now at Napleton's Valley Hyundai
With the all-new Hyundai Santa Cruz, it's the beginning of a totally new segment. The Santa Cruz is a vehicle that can't decide if it's a crossover, a truck or an SUV. Why not be all three? Regardless of what you call it, it's here now, and it's ready for adventure at Napleton's Valley Hyundai. Filled with the latest innovations, the new Santa Cruz can take you anywhere you want to be! Just hop in and Cruz, er cruise!
A groundbreaking Hyundai truck ready for groundbreaking adventure.
The new Santa Cruz is just the latest in a group of amazing vehicles from Hyundai. Based on what we have seen so far, we think they are just getting started!  The new Santa Cruz makes an immediate impression, spanning the ranks of Truck, SUV and Crossover segments to create a new Sport Adventure Vehicle classification. It's perfect for a ride across town or across the country. It's even perfect if you want to go off the grid some weekend. As an adventure wagon, it gives you a choice to pick the time and place and be on your way! Where shall you go? That's for you to decide.
There are loads of innovations in the new Santa Cruz. Here are some of our favorites!
At home in the city and off the grid
Powerful engine choices
Highly adaptable all-wheel drive powertrain
Locking tonneau cover
Open-bed flexibility
Closed-Cabin security
Hyundai Santa Cruz Trim Levels - Tailored for you.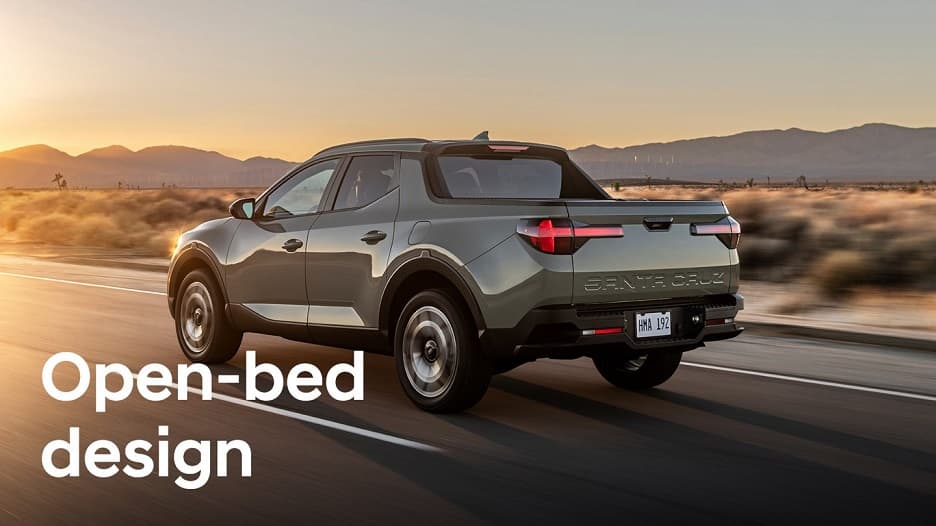 Hyundai Santa Cruz near Aurora: An SUV? A crossover? A truck? Yes!
It is all of the above, but Hyundai calls the new Santa Cruz a Sport Adventure Vehicle.
But what is that, you may ask. It's a vehicle for buyers who want to do more with their lives than just exist. Whether it's just a daily commute to work or delivering the kids to school, or running around town for your business, it's the perfect urban adventure vehicle for you. And should you ever want to hit the trails, the Hyundai Santa Cruz is the one for the adventurer who wants it all.
The Santa Cruz is the first-of-its-kind four-door pickup truck/crossover/SUV from Hyundai for America. It shares a platform with the 
Hyundai Tucson
 and includes the same innovative daylight running lights located behind the grille. Innovative styling like this doesn't happen every day.
What Powers the Santa Cruz?
The Santa Cruz is available with a choice of two engines. Standard on all Santa Cruz models is the 2.5-liter naturally-aspirated inline-4 engine making 190 horsepower and 180 lb-ft of torque. It is matched to Hyundai's 8-speed automatic transmission for quick and sure shifts.
Enthusiasts and those who appreciate more will like the 2.5-liter direct-injection turbocharged four-cylinder engine. Built to make 275 horsepower and 310 lb-ft of torque, this turbo matches to a well-sorted 8-speed automatic dual-clutch transmission (DCT). The Hyundai Santa Cruz delivers with front-wheel drive as standard, but Hyundai's Advanced HTRAC all-wheel drive (AWD) is an available option. Towing capacity for the standard 2.5-liter engine is 3,500 pounds, while the turbo engine can tow up to 5,000 pounds.
Hyundai's HTRAC AWD system is complete with a drive selector dial and active torque control. Driving in Sport mode varies the torque heading to the rear wheels. The system reacts to certain circumstances on the road and improves handling and acceleration driving in a straight line. It also provides a fairly entertaining ride.