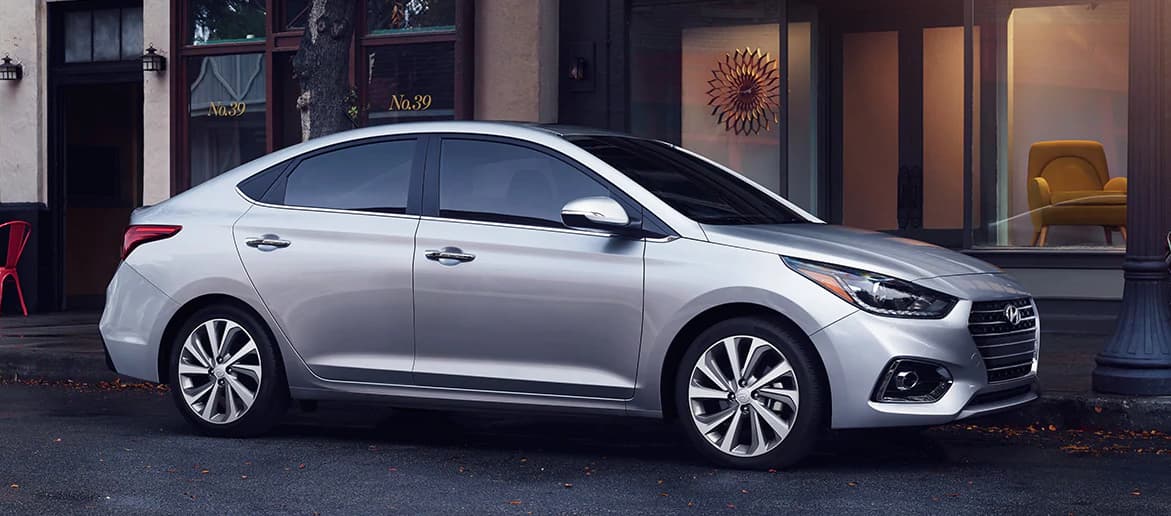 Complementary Compact
Clever and effective with an affordable price tag, the new Hyundai Accent is the perfect compact car to complement your life.
With a 130-horsepower 1.6L 4-cylinder engine standard in three trims: SE, SEL, and Limited, the new Hyundai Accent has the smarts and style that is unmatched by any vehicle in its class. Hyundai's engineering makes for a smooth ride every time you hit the road which is the perfect complement to the long list of features available on the interior of the cabin.
Get behind the wheel to find available heated seats, 5" or 7" touchscreen display, rearview camera, navigation, and Android Auto or Apple CarPlay support. The hands-free smart trunk will automatically open with the Proximity Key so you can easily drop your bags into the trunk with a surprising amount of cargo space.
Keep scrolling to check out our selection of new Hyundai Accent models available today.
var _tealiumVars = { 'oem': 'hyundai', 'tier': 'tier3hma', 'env': 'live', 'dealerCodeKey': 'hyundai', 'aliasMapPath': '/v9/widgets/tracking/tealium/v2/js/aliasMap.json', 'customTrackingLinks': '.autohookOffer:autohook_incentive_click,.customWindowStickerButton:view_window_sticker,.custom_ws_btn:view_window_sticker,.links-share a:social_media_share,[data-mycars-get-alerts]:get_price_alerts,[data-mycars-save]:save_vehicle,.alias-hyundai-shopper-assurance .youtube-player-button a:engagement_feature_interaction+feature_category$watch this video,.button-block-shopper-assurance .button-block-transparent-pricing:engagement_feature_interaction+feature_category$simplified experience_transparent pricing,.button-block-shopper-assurance .button-block-flexible-test-drive:engagement_feature_interaction+feature_category$simplified experience_flexible test drive,.button-block-shopper-assurance .button-block-streamlined-purchase:engagement_feature_interaction+feature_category$simplified experience_streamlined purchase,.button-block-shopper-assurance .button-block-three-day-exchange:engagement_feature_interaction+feature_category$simplified experience_3-day worry free exchange,.alias-hyundai-shopper-assurance .flexible-test-drive .content a:engagement_feature_interaction+feature_category$flexible test drive_online,.alias-hyundai-shopper-assurance .test-drive-button a:engagement_feature_interaction+feature_category$flexible test drive_schedule a test drive,.alias-hyundai-shopper-assurance .inventory-button a:engagement_feature_interaction+feature_category$shop inventory', 'overviewModelYear': '', 'overviewModelNameplate': ' ' }, _dl = {}, _trackAnalytics = function(){};