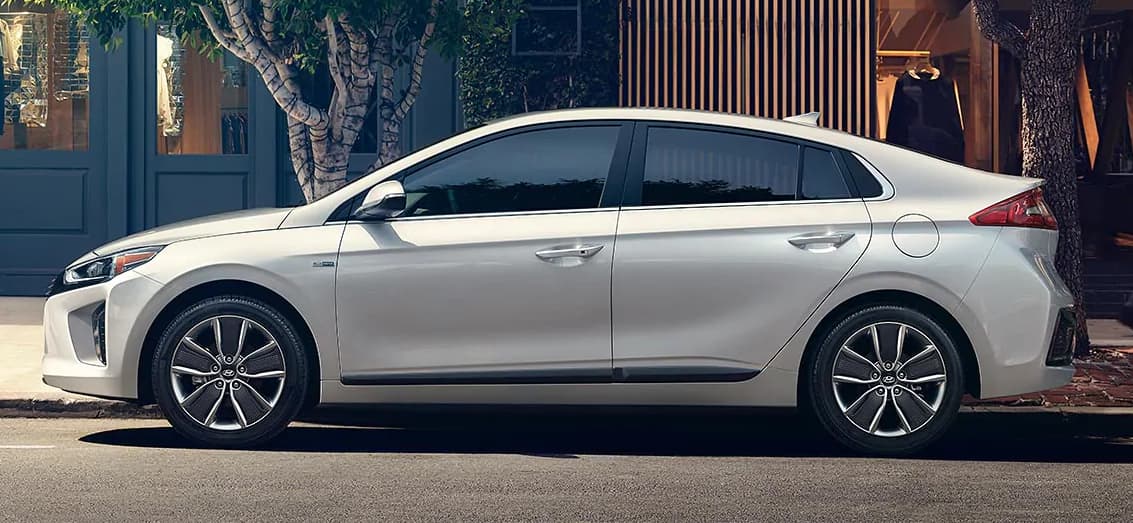 A Hybrid That Drives to the Beat of Its Own Drum
Drive a Hyundai Ioniq Hybrid and you'll be pleasantly surprised at how much performance you can get out of this vehicle.
Standard in each Ioniq Hybrid is a 6-speed EcoShift Dual Clutch Transmission with optional sport mode that will make you feel confident in a street race. The Ioniq really doesn't feel like a standard hybrid until you get your hands on all of its tech-smart features. Available with an 8" touchscreen navigation system and Apple CarPlay and Android Auto integration, you will always be entertained since you'll be achieving up to 52 MPG on the highway, minimizing the need for any stops at the gas pump.
Flexibility is the name of the game with 60/40 split rear seats that easily fold down for increased cargo capacity and multiple driving modes optimized for urban or rural traveling. Match these driver-friendly features with the latest advances in driver and passenger safety, and you've got one hybrid that simply marches (or drives) to the beat of its own drum.
Check out our selection of available Hyundai Ioniq Hybrid models available below and decide which edition you like best between Blue, SEL, or Limited.
var _tealiumVars = { 'oem': 'hyundai', 'tier': 'tier3hma', 'env': 'live', 'dealerCodeKey': 'hyundai', 'aliasMapPath': '/v9/widgets/tracking/tealium/v2/js/aliasMap.json', 'customTrackingLinks': '.autohookOffer:autohook_incentive_click,.customWindowStickerButton:view_window_sticker,.custom_ws_btn:view_window_sticker,.links-share a:social_media_share,[data-mycars-get-alerts]:get_price_alerts,[data-mycars-save]:save_vehicle,.alias-hyundai-shopper-assurance .youtube-player-button a:engagement_feature_interaction+feature_category$watch this video,.button-block-shopper-assurance .button-block-transparent-pricing:engagement_feature_interaction+feature_category$simplified experience_transparent pricing,.button-block-shopper-assurance .button-block-flexible-test-drive:engagement_feature_interaction+feature_category$simplified experience_flexible test drive,.button-block-shopper-assurance .button-block-streamlined-purchase:engagement_feature_interaction+feature_category$simplified experience_streamlined purchase,.button-block-shopper-assurance .button-block-three-day-exchange:engagement_feature_interaction+feature_category$simplified experience_3-day worry free exchange,.alias-hyundai-shopper-assurance .flexible-test-drive .content a:engagement_feature_interaction+feature_category$flexible test drive_online,.alias-hyundai-shopper-assurance .test-drive-button a:engagement_feature_interaction+feature_category$flexible test drive_schedule a test drive,.alias-hyundai-shopper-assurance .inventory-button a:engagement_feature_interaction+feature_category$shop inventory', 'overviewModelYear': '', 'overviewModelNameplate': ' ' }, _dl = {}, _trackAnalytics = function(){};